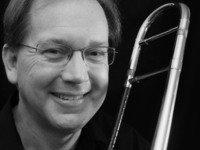 Tim Coffman and Tom Matta lead a jazz trombone clinic as a part of Trombone Day at the School of Music.
Dana Hall- drums, cymbals, mbira, percussion, and electronics Geof Bradfield- soprano, alto, and tenor saxophones; bass clarinet John Wojciechowski- alto...
Anat Cohen Ever charismatic, prolific and inspired, Grammy-nominated clarinetist-saxophonist Anat Cohen has won hearts and minds the world over with her...
The Jazz Ensemble, directed by Bob Lark, performs several times throughout the academic year both on and off campus and has appeared at the Midwest Clinic,...
The DePaul Jazz Workshop serves as the laboratory ensemble of the three large jazz ensembles at DePaul. Using the legendary Jazz Workshops of Charles Mingus...
Recent Events